Selling your property is always a nail-biting experience, as you try to figure out how much you should spend on improving the property, and whether the final sale price will be worth that effort. If you have been debating how to add value to your home, and are thinking about adding an extension or converting the loft, then we might be able to offer another option to you which will help you to increase property values without spending a fortune on an unknown reward. Just Painting Inc can offer you our team of experienced exterior painting contractors to transform your home from unloved to unrivaled in just a few coats of paint.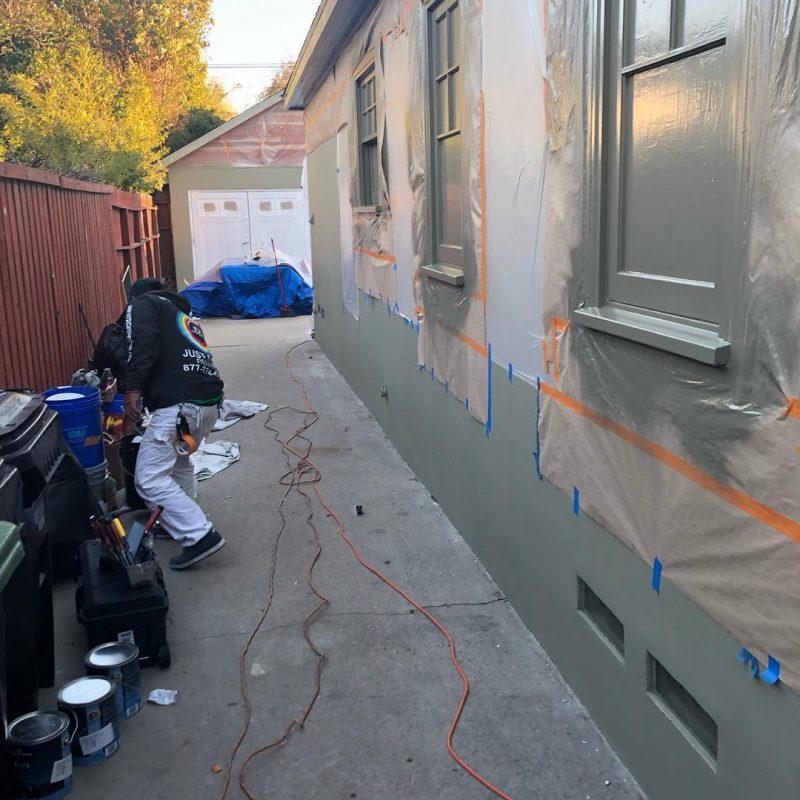 Getting Rid Of Old Paint
Just like with the interior paint inside your home, the first thing that we will need to do is to remove all of the external paint. This is because the paint is often damaged at this point – faded, chipped or weather-beaten – it is essential that it all comes off before anything can be added. Not only that but if we are painting your house a different color, old paint might leach through and be visible under the new coats. So, while we are preparing all of the paints and getting everything set up, we will set to work on stripping all of the existing paint. You may be surprised to view your house completely naked of paint, but don't worry, because we will be adding something fresh and bright as soon as possible.
Refreshing The House
Just adding a coat of paint might seem like you are not doing very much, but you might be surprised by the results. A new coat of paint, even white paint, can make the house pop against its background, brightening up the walls and making it eye-catching for potential buyers. The color of the house can transform it into something unique, and this is, even more, the case when we add a contrasting color on the door, on window frames, and on the porch. If you have external shutters, we will paint those, too, so that every space on the outside of your property is transformed. Of course, if you want to complete the look, then you might want us to do the inside, too. We can cover every part of your house, adding value wherever we are.
Transform Your Property
Adding value to your home with a coat of paint is a very simple and effective method of transforming an area. It is one of the most effective ways of adding value without taking a big risk on spending large amounts of money, and with specialist exterior painting contractors from Just Painting Inc, you get a great service which leaves your home looking fantastic. Find out how we can help you today, and get a free estimate over the work you need doing by sending us an online message, or by calling our team at (888) 747-8417 now.