Best New Construction Painting
Any construction project really isn't complete until it's fully painted. Usually, the first thing someone notices when they look at a building is the paint job. No matter how well constructed it is, or how creatively designed; the paint is often what the first impression rests upon. To make sure that your newly constructed building looks its best from the moment it's complete, we recommend our new construction painting services. We can put our excellence to work with your building, so it looks great as soon as it's done as well as long into the future.
For 17 years, we've been providing new construction painting to buildings all over the Los Angeles County area. We have painted all different kinds of buildings as well. From enormous storefronts of the largest companies, to the most intimate, quaint stores, we've painted them all. Ornate, upscale offices, studio apartments, spacious mansion, duplex homes and everything in between – if there's a type of building in Southern California, we've painted it.
The elements can really take a toll on a building in Southern California. The hot sun is forever beating down. Beyond that, when the rains fall here, they fall very hard. An exterior paint job is a great way to help to protect your new building no matter what happens. The right kind of exterior paint job, done with the right materials and techniques, can stand up to the elements longer. That way, your building looks greater for a longer period of time. So, it will look fantastic for anyone that walks by, and may even go for a higher re-sale value should you choose to sell it at some point in the future.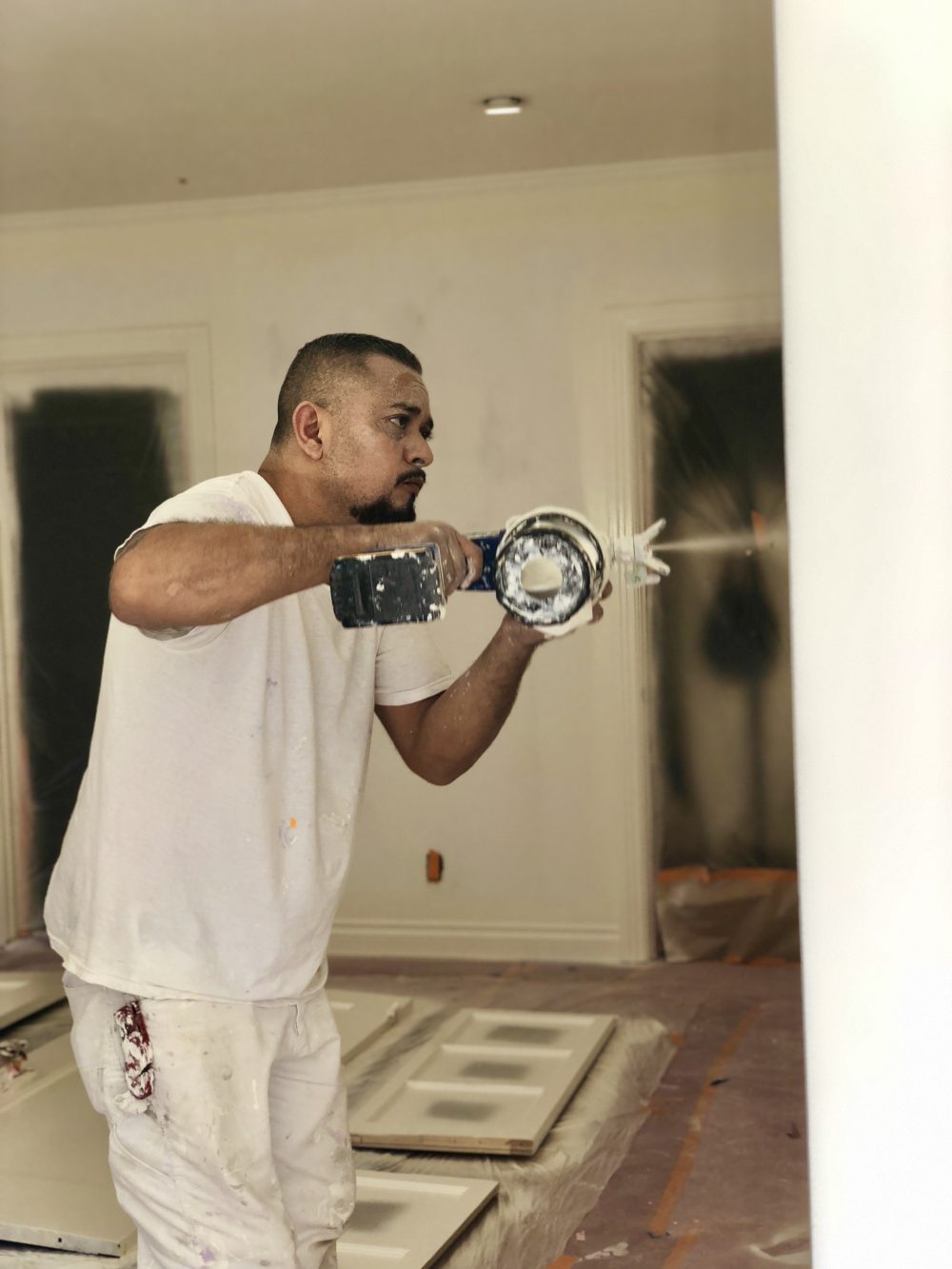 Painting for a Construction Project
Many responsibilities come with new construction painting. To make sure that we live up to all of them, we are insured and that means you can trust that even should some kind of inconvenience pop up, everything's going to be all right. You can take that to mean that we've passed every kind of test and certification there is, so that we can bring you a paint job that's well done. In Southern California, there are too many painting contractor companies going around without licenses or insurance, and we would never do that.
You and your construction project deserve the very best. You want a building that's going to stand the test of time. Our painting ensures that your construction project will look great no matter what it's used for. We've worked with so many construction companies and others over the years to fulfill all their painting needs. You've had an idea in your head for a long time as to what you construction project should look like. Let our painting help to make it possible.
Contractors for You
When you hire our painting contractors, you get an entirely professional painting experience. We always arrive on time and absolutely ready to work. By making communication open and easy, you can contact us at any time to find out how the job is going. We keep you "in the loop" so that you can make the best, most informed decisions. Beyond that, we make sure to use the best materials in each of our painting jobs. By always working to the highest standards, we make sure that your building looks amazing.
Your construction project is literally like a blank canvas. We can make it look however you want. If you have a clear cut idea of what you want your project to look like, we can make that happen. If you aren't sure, or are still debating options, we love sitting down and offering our experience. We've done this many times before, so we can offer quite a bit of help in figuring out exactly what the right look and feel is for your style or décor.
Just Right Painting for Construction
It's important to us that we treat your new construction painting job like we were painting our own home. That's the level of care and dedication we bring to every painting job we take. Beyond that, we also provide one free project every year to a veterans' organization or a non-profit. It's a source of pride to be able to help this great community. We love bringing our services to all over Los Angeles County, as well. Our professional painting contractors service West Hollywood, Hollywood, Santa Monica, Malibu and Beverly Hills.
If you've been in Southern California for any length of time, you know that each of those areas are different with different expectations and styles. We've painted many construction projects in each of those areas as well as others. So, we can assist you in making a construction project that fits into each of those locations. By that same token, we can also give you a paint job that will stand out there or anywhere else.
We take pride in our professionalism. Too many contractors say they're familiar with painting new construction projects but they really haven't done it before. Then, they don't have the right tools or techniques. That leads to you having to live with a second-rate job, or even having to get it painted twice. That doesn't happen with us. We always make sure to use the most cutting edge tools and well as the specific techniques that make a construction painting job an absolutely success. You shouldn't have to waste time or money dealing with others; we get it done right the first time.
It's important your new construction painting project look great on the outside as well as the inside. Doing a great job painting the exterior is only half of what we offer. We also excel at making your interior look incredible, too. By having a building that looks as great on the exterior as well as the interior, your new construction project will absolutely shine. Contact us at (888) 727-8417 or go to our website to find out how we can help your construction project.