Floor Coating
Concrete floor looking tired?
Has your floor lost its luster? Does it have cracks, dents, stains, and worse? Just Right Painting has the solution. We can make your concrete floor look and feel that much better. Best of all, it will be safer, too. That's true whether you need a concrete floor for your commercial location, an industrial one, or even your home.
For years, Just Right Painting has offered any number of the best concrete floor coating technology. The truth is that the concrete floor coating has advanced far beyond where it was even just a few short years ago. Today's concrete floor coating makes your concrete floor last. Foot traffic, wheels, and so much else – we can provide a floor coating that will give your flooring a lasting durability. Of course, you should never have to choose between "looks" and "strength." Our concrete floor coating provides the best of both worlds. We have a vast catalog of colors and finishes to choose from.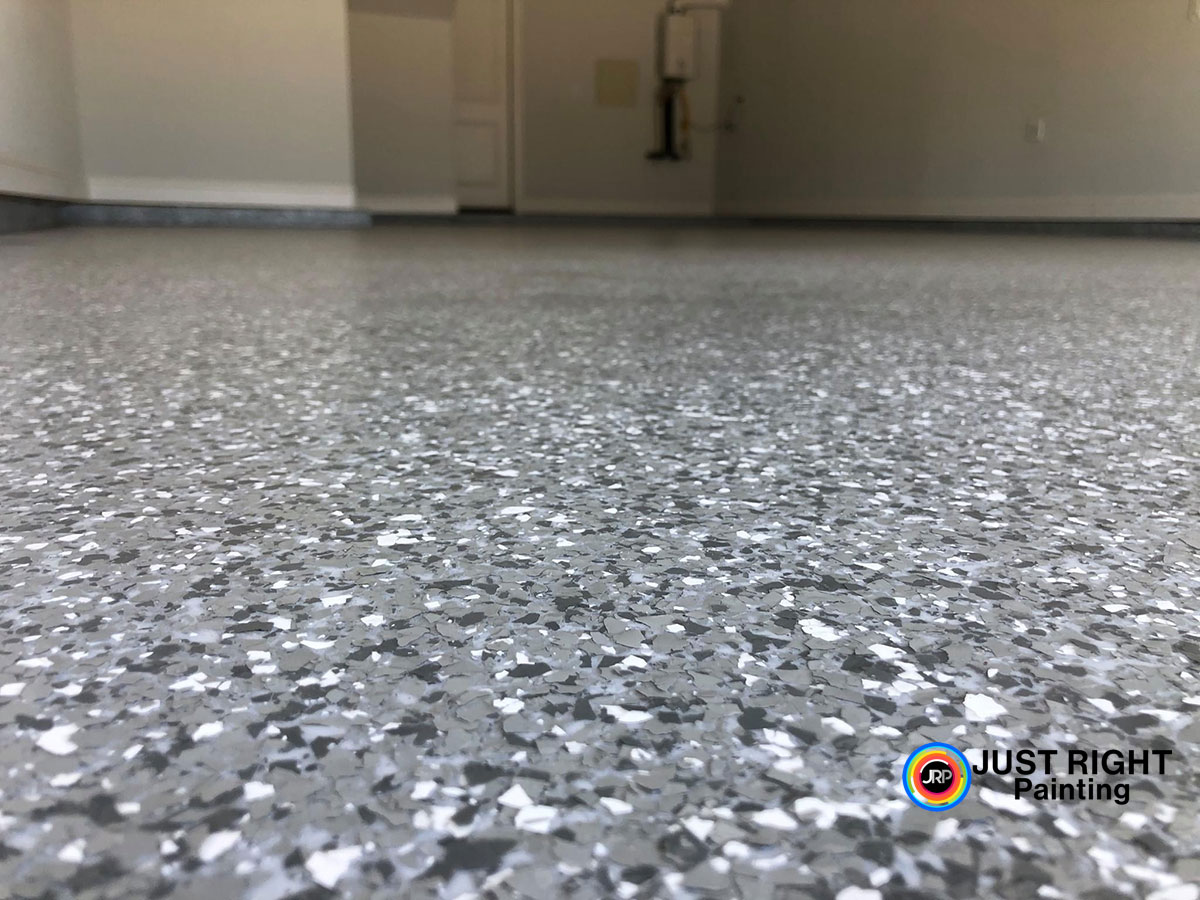 That way, you can find the one that best matches your style, decor, and everything else. Too many floor coatings that others use are "water-based." As you can guess from the name, those don't exactly last. These epoxy systems can become so brittle that they'll crack in as little as a couple of years. You don't want to have to continually get new floor coating, over and over again.
That's why we use floor coatings that won't chip or peel, ever. On top of that, they'll look great the entire time.
Floor Coating for Your Floor
Every space, every surface, every room requires a different kind of floor coating. That's why we can help you put together one for places where people (and machines) travel all the time, as well as patios. Whether it's your driveway, your laundry room, your garage, even your stairs, or anywhere else, we have a floor coating option.
At Just Right Painting, we also understand that you can't exactly put your entire life on hold just to improve your flooring. That's why we do everything we can to get it done in one day just right.
A Floor for Any Location
The floors in a store are going to be different than those in a warehouse. A car dealership may have a public bathroom, but there should be a different kind of flooring in each. From firehouses to plush offices, harsh warehouse floors, and gorgeous balconies, we have a floor coating that will last and look great for you.
We believe in our floor coating. That's why we offer some of the best warranties in the business. If you want to learn more about what kinds of floor coating are available for your needs or walk to talk to a pro, call us at (888) 727-8417.